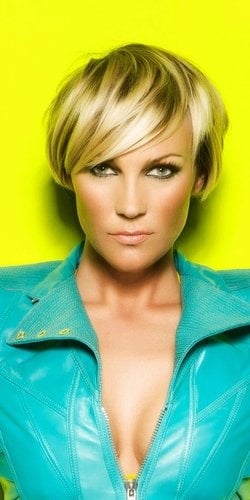 Kate Ryan is a Belgian europop-dance artist popular across continental Europe since the early 2000s.
I "discovered" her thanks to "Soundic Radio" (check them out in iTunes under Radio / International) then went on to buy the excellent albums "Free" and "Essential" (2008), which I highly recommend…
French Connection
Although Flemish-speaking, she has enjoyed a string of hits in French, particularly dance covers of eighties French classics originally released by the likes of Mylène Farmer ("Désanchantée", "Libertine"), France Gall ("Ella, elle l'a", "Babacar") or Desireless ("Voyage Voyage").
A brilliant idea, brilliantly executed: these were great songs to begin with, made even better with a great dance-trance production for the new millennium (my personal favorite: "Ella, elle l'a" originally written by Michel Berger as a tribute to Ella Fitzgerald).
Electroshock?
While she'd always mixed covers and originals, Kate Ryan is now focused on original material. After "LoveLife" and "Broken" in 2011, Kate released last week a new single and sexy video – "Robots" – with an album long-rumored to be in the works…