Welcome to my website!
2020! New Remix:
Steven Wilson - Personal Shopper (SuperCool-Guy Remix)
Click here for details
2020! New Indie Game Soundtrack:
Only You Can Save the Space Whale Multiverse!
Click here for details
Album "Back in the Groove"
download or stream on all major music platforms
also available as limited edition CD on CD Baby
Hello!
I am a French, London-based songwriter/producer and I release some of my music under the name "SuperCool-Guy".
My music combines a wide range of influences across decades, genres – including pop, rock, dance – and nationalities – including French, Asian, Scandinavian, British and American. I try to deliver satisfying and memorable melodies, and a positive energy.
I also occasionally use this site to blog about the music, songwriters and artists that I love (OK I've been a little lazy recently, but I am still around – this is 2020 – and I will pick it up at some point...).
I always welcome collaboration enquiries from talented artists and other writers, particularly lyricists.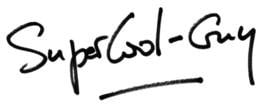 Sign up for the mailing list to be notified of new releases or follow me on your favorite social media platforms.