You (So Alive!)
Posted on
"You (So Alive!)" is track no.4 on the album "So That's How It Ended…" and the second track featuring Fay Cannings on lead vocals.
The track was originally written, recorded, and discreetly released on SoundCloud in 2018. That earlier mix has been removed and reworked in 2021 for re-release as part of the album.
Songwriting
The song started with the musical hook, which came to me as something like "Ooohhh" and which became "You".
I am more of a composer than a lyricist, but these I think are some of my better lyrics. It's a simple love song, but quite genuine and with a satisfying feeling of exaltation and bliss.
The music is uplifting, catchy pop-rock with 80's influences, a bit reminiscent of Belinda Carlisle or Stevie Nicks, both from the point of view of Fay's vocal tone – particularly her lower register in the verses – and of the arrangement.
What makes the song work IMO are the harmonies. There's tons of layers, which Fay and I multi-layered. In a way, this song is almost like a duet, and that fits well with the subject matter.
Production
I wanted a classic pop-rock feel for this song, so didn't go crazy adventurous on the sound patches, but rather, stuck with the true-and-tested classics:
The drums were played live on a Roland electronic drum kit, cleaned up on the computer and rendered with a blend of Roland FA-06's "PowerSession" kit and Studio Drummer's "Session Kit Full" with "snare B".
The bass is the FA-06's "Finger Bass" and the piano, FA-06's "PremierGrand".
The guitars are all RealGuitar and RealStrat parts played on the keyboard, the latter with a range of GuitarRig5 effects, including the ambient "EpicTexture" preset for the bridge and final set of choruses.
The strings are played with two instances of String Ensemble Essentials for Kontakt, one in staccato, the other in sordino sus vibrato.
The backing track is beefed up with Roland's "ClassicJPpad" on the first chorus, and a blend of Roland's "SynthPad/Str" and FM8's "CS-Poly" from the second chorus onwards.
And then, there's a ton of vocal parts! Here's what the ProTools session looks like: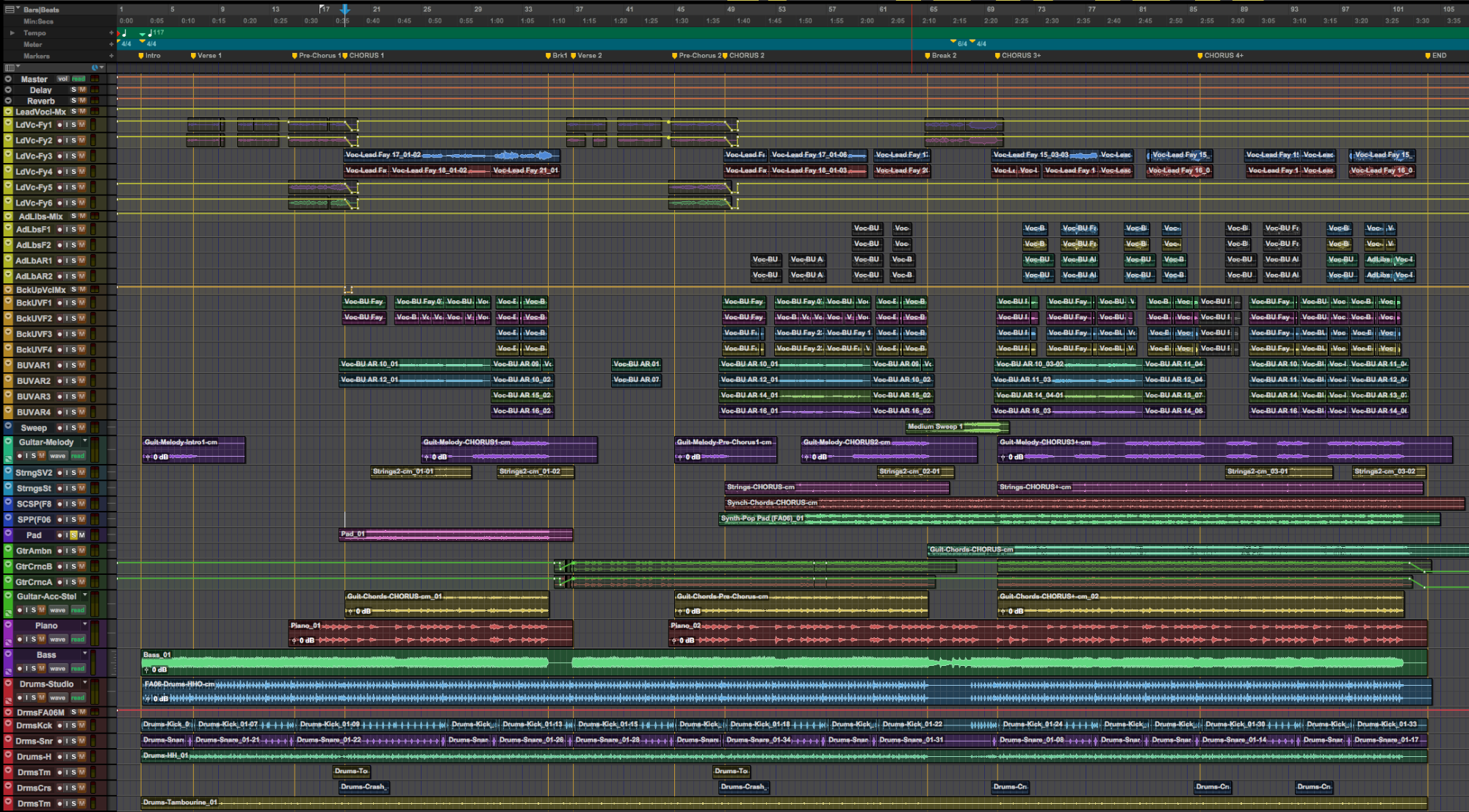 Credits
Music & Lyrics: A. Robin
Lead vocals: Fay Cannings
Instruments and backing vocals: SuperCool-Guy
Arrangement, mix and production: SuperCool-Guy
Mastering: Jon Astley
Lyrics
Kind of physical
Kind of spiritual
I've never felt this way before… it's kind of magical
Been around the world, searching for the answer
And here you stand, it's you I was after
CHORUS:
You… you make me whole
You… you make me feel like I'm invincible
You… you take me home
You lift me up, I don't know how
You make me feel… so alive!
Indescribable
Undeniable
This feeling taking over me… is unstoppable
You came to me when I was down
I'll stand by you, our lives are bound
CHORUS
And when we touch, I feel your fire
You make me feel… alive!
CHORUS +
You lift me up, I don't know how
You make me feel… so alive!