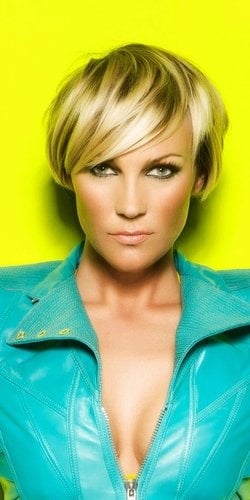 Kate Ryan is a Belgian europop-dance artist popular across continental Europe since the early 2000s.
I "discovered" her thanks to "Soundic Radio" (check them out in iTunes under Radio / International) then went on to buy the excellent albums "Free" and "Essential" (2008), which I highly recommend…
French Connection
Although Flemish-speaking, she has enjoyed a string of hits in French, particularly dance covers of eighties French classics originally released by the likes of Mylène Farmer ("Désanchantée", "Libertine"), France Gall ("Ella, elle l'a", "Babacar") or Desireless ("Voyage Voyage").
A brilliant idea, brilliantly executed: these were great songs to begin with, made even better with a great dance-trance production for the new millennium (my personal favorite: "Ella, elle l'a" originally written by Michel Berger as a tribute to Ella Fitzgerald).
Electroshock?
While she'd always mixed covers and originals, Kate Ryan is now focused on original material. After "LoveLife" and "Broken" in 2011, Kate released last week a new single and sexy video – "Robots" – with an album long-rumored to be in the works…
Watch the full playlist below or on my YouTube channel – or click the song title for the corresponding video.
Robots
2012 single
Original song, written by Paul Drew, Greig Watts(*), Pete Barringer and Georgie Dennis
(*) Greig happens to be my co-writer and DWB the producers on "One Of These Days" – small world!

LoveLife
2011 single
Original song, written by Paul Drew, Greig Watts, Pete Barringer and Georgie Dennis

Babacar
From 2009's "French Connection"
First recorded by France Gall (from 1987's "Babacar")
Written by Michel Berger

Libertine
From 2008's "Essential"
First recorded by Mylène Farmer (from 1986's "Cendres de Lune")
Written by Laurent Boutonnat and Mylène Farmer

I Surrender
From 2008's "Free"
Original song, written by Darren Tate and Victoria Horn

Ella, elle l'a
From 2008's "Free"
First recorded by France Gall (from 1987's "Babacar")
Written by Michel Berger

L.I.L.Y. (Like I Love You)
From 2008's "Free"
Original song, written by Jeanette Olsson, Niclas Kings, Niklas Bergwall and Jim Dyke

Voyage Voyage
From 2008's "Free"
First recorded by Desireless (1986)
Written by Jean-Michel Rivat and Dominique Dubois

Alive
From 2006's "Alive"
Original song, written by Dobre, DJ Zki and Victoria Horn

Je t'adore
From 2006's "Alive"
Original song, written by Kate Ryan, Lisa Greene, Niclas Kings and Niklas Bergwall

The Promise You Made
From 2004's "Stronger"
First recorded by Cock Robin (from 1985's "Cock Robin")
Written by Peter Kingsbery

Désanchantée
From 2002's "Different"
First recorded by Mylène Farmer (from 1991's "L'Autre…")
Written by Laurent Boutonnat and Mylène Farmer