Roxette + Darren Hayes, Wembley Arena, London, 15 November 2011
Posted on
90s Pop Icons Still Got It
Went to see Roxette at Wembley Arena last night. How cool is that? Opening act: Darren Hayes. It doesn't get much better as far as line-ups go.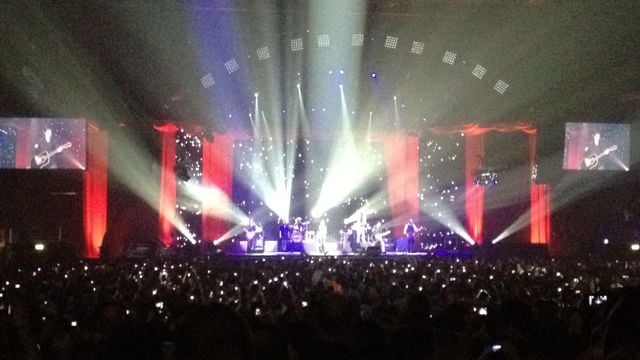 Wembley Arena defies all logic
Anyway, let's get one thing out of the way: Wembley Arena – not to be confused with Wembley Stadium across the road – does not live up to its reputation. It used to be worse: before its 2006 refurbishment, it looked and felt like a giant crackhouse. No longer – it's now very bright and colorful, but a bit cheap, the acoustics still aren't very good, and above all the shape of the hall is and will always be the main problem. Picture a long, narrow rectangle (it was originally built to house the swimming pool of the 1934 Empire Games). Now picture the stage at the narrow end of the rectangle: unless you're among the lucky 25% in the pit, front and center, the stage is going to be either sideways or very far from you, or both. As a concert venue, the building defies all logic and common sense: it's structurally flawed.
Anyway, I was section D4, row 12, seat 55, i.e. way in the back. It was still a great show and I still had a great time.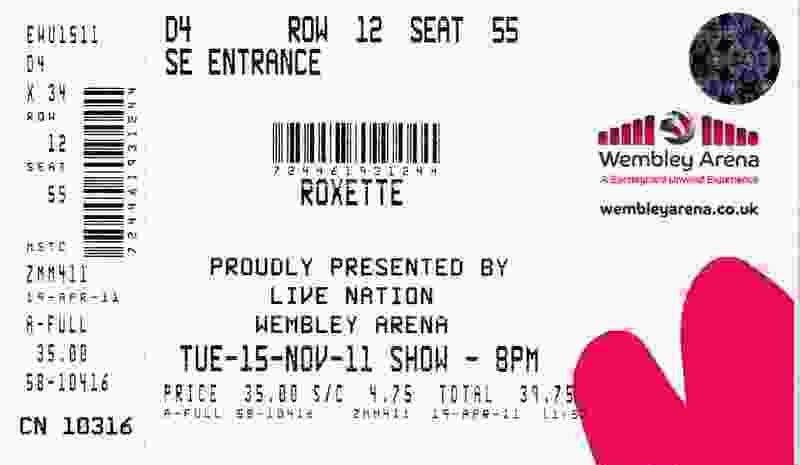 The core audience demographics was about 95% white, 60-70% female, between 25 and 45: these were the British kids of the 90s, out to relive the fun of their school disco days. The vibe was fun and unpretentious.
Darren Hayes: a strong set marred by horrible sound
Darren Hayes will be remembered by most as the singing half of Savage Garden, one of the great pop bands of the 90s. While never regaining the heights of his early career, Darren has kept extremely busy and enjoyed a long and highly successful solo career, releasing an impressive four studio albums over the past ten years, soldiering on, doing what he loves and does best: great pop music. You have to respect him for that.
*** ATTENTION: SPOILERS ***
The sound was just horrible - poor Darren visibly didn't get his soundcheck! The first track was all bass and no vocals, and that didn't improve much during the rest of his 30-mn set. I wasn't familiar with the first song but in spite of this and the horrible mix, I immediately liked it and that's the sign of a great song. I checked it out later on and I believe it was the new single "Black Out the Sun". Check it out! The show was a mix of Savage Garden and solo favorites, and the highlight was predictably "Truly Madly Deeply".
Roxette: the masters of pop are back
The excitement picked up a few degrees when Roxette came on stage, and it never relented - with the entire crowd standing throughout the show, even during the ballads.
Roxette is back! After a prolonged break forced by Marie Fredriksson's battle with cancer since 2002 and a long road to recovery, Roxette reunited in 2010, released "Charm School" in February 2011 - their first studio album in 10 years - and have been touring the world for most of the year.
The band immediately established a high level of energy with "Dressed for Success" and "Sleeping In My Car" and took the audience on a 2-hour "joyride", alternating ballads and uptempos, acoustic and electric arrangements, old favorites and a few new songs.
Roxette on stage has a "rockier", guitar-driven sound. I've always loved that combination of rock and pop, combined with a fun, positive attitude and innocence. It's very much in line with what I am trying to achieve with the SuperCool-Guy music and persona, actually!
Per Gessle, youthful as ever, is like a ball of fun and energy, tirelessly bopping around and strumming his guitar. The attitude is very loose and free, but the playing always precise. He's the ringleader, spokesman and a natural entertainer.
Marie was more reserved and seemed almost frail at times, but her voice, warmth and the iconic blond spikes didn't let anyone down.
The audience did their part as well, and the vibe was great – even way in the back where I was. Its quite a moving experience when 12,000 people sing along with one voice, and that's exactly what happened on "It Must Have Been Love" and some of the other huge hits such as "Fading Like a Flower", "Crash! Boom! Bang!", "Joyride", "The Look" and "Listen to Your Heart": These were the show's highlights in my opinion.
Great show, great energy, and above all great songs! Count me as fan!
Set List – Roxette, Wembley Arena, London, 15 November 2011
Dressed for Success
Sleeping In My Car
The Big L.
Wish I Could Fly
Only When I Dream
She's Got Nothing On (But the Radio)
Perfect Day
Things Will Never Be the Same
It Must Have Been Love
Opportunity Nox
7Twenty7
Fading Like a Flower
Crash! Boom! Bang!
How Do You Do!
Dangerous
[Band Intro]
[Guitar Solo] God Save The Queen
Joyride
[Encore]
Watercolours In the Rain
Spending My Time
The Look
[2nd Encore]
Listen to Your Heart
Church of Your Heart