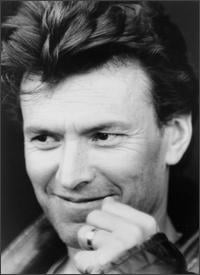 I will always associate Steve Winwood with California – and more specifically my time in the "Silicon Valley" area in 1988. This was around the time the "Chronicles" compilation album had been released – and his songs were playing non-stop on California radios, particularly "Valerie", "Talking Back to the Night" and "Higher Love". Ah! California days!...
Steve Winwood is of course English, but his sound is much more "American" in my opinion – a fusion of blues, soul, pop and rock. And it is in America that he perhaps enjoyed the most success throughout the 80s.
Equally adept on the guitar and keyboards, his trademarks include a high-pitched, soulful voice and distinctive keyboard solos played in the manner of a guitarist (great solo on "Valerie" and many others).
Steve Winwood started his career in the 60s as a member of the Spencer Davis Group, which scored a number of hits in the UK, incl. "Gimme Some Lovin'" which was a worldwide hit in 1966 – and which I discovered only much later, incidentally thanks to one of my other idols, Cerrone, who covered the song with Kongas and then live as a solo artist...
Winwood then went on to form Traffic (1967-74), supergroup Blind Faith with Eric Clapton and Ginger Baker (1969) and re-united with Clapton on several occasions over the following decades, both in the studio and on stage.
The 2004 dance hit "Call on Me" by Eric Prydz was based on a sample of "Valerie", which Steve Winwood re-recorded for the occasion.
Here's a few of my favorite Steve Winwood songs, and for those available online, links to the music videos and a playlist on my YouTube channel:
Don't You Know What the Night Can Do (from "Roll With It", 1988)
Roll With It (from "Roll With It", 1988)
Valerie (1987 Remix) (from "Chronicles", 1987)
My Love's Leavin' (from "Back In The High Life", 1986)
Back In The High Life Again (from "Back In The High Life", 1986)
Higher Love (from "Back In The High Life", 1986)
Talking Back to the Night (from "Talking Back to the Night", 1982)
While You See a Chance (from "Arc of a Diver", 1980)
Gimme Some Lovin' (Live with Eric Clapton, 1983)