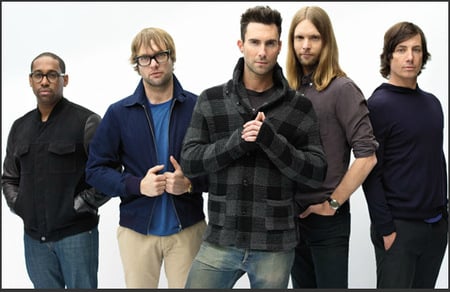 Maroon 5 provided much of the inspiration for "Time Difference", particularly with songs like "Makes Me Wonder".
Their sound is a fusion of pop-rock and funk, made instantly recognizable by Adam Levine's distinctive high-pitched vocals.
Timeline
The original members of Maroon 5 had met in college and been playing together since the mid-90s, but it took until 2000 for the band proper to form, and 2002 for the release of its first album, "Songs about Jane".
It took another two years of relentless touring and promotion, and the 2004 release of their second single "This Love" for Maroon 5 to finally break through and find mainstream success. The next single, "She Will be Loved" repeated the success of its predecessor and the album eventually went multi-platinum in the US and many countries around the world… but it took a good 2-3 years of hard work to get there.
Maroon 5 followed up with the cryptically-named "It Won't Be Soon Before Long" in 2007 and "Hands All Over" in 2010 (produced by the legendary Robert John "Mutt" Lange), both of which went platinum and yielded a number of hits, most notably "Makes Me Wonder" (2007) and "Moves Like Jagger" featuring Christina Aguilera (2010), their biggest-selling song to date...